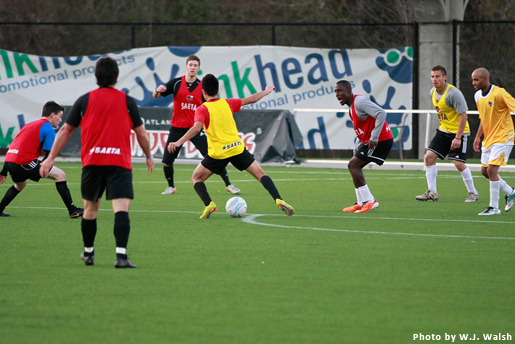 The Atlanta Silverbacks Reserves will be holding three preseason player combines ahead of the 2012 NPSL season. Each two-hour combine will be held at Atlanta Silverbacks Park on the following dates.
Friday, February 24 - 5 p.m.
Saturday, March 17 - 2 p.m.
Saturday, April 14 - 2 p.m.
To participate, each player must fill out the combine
application
and
waiver
, linked here. The cost of the combine is $20 per participant, and payments must be
cash only
. No credit cards, checks, or money orders will be accepted. Payments will be processed on-site at the combine, and should not be mailed.
Space at each combine is limited, so early registration is encouraged.
Participants should mail their application to:
Atlanta Silverbacks
ATTN: Ricardo Montoya
3299 Northcrest Rd., Suite 200
Atlanta, GA 30340
For questions or late registration notices, please contact Ricardo Montoya at 770-318-4202 or ricardo.montoya@atlantasilverbacks.com.